Hybrid Sculptures
Sculptures in Bordeaux, Malmo, and Toronto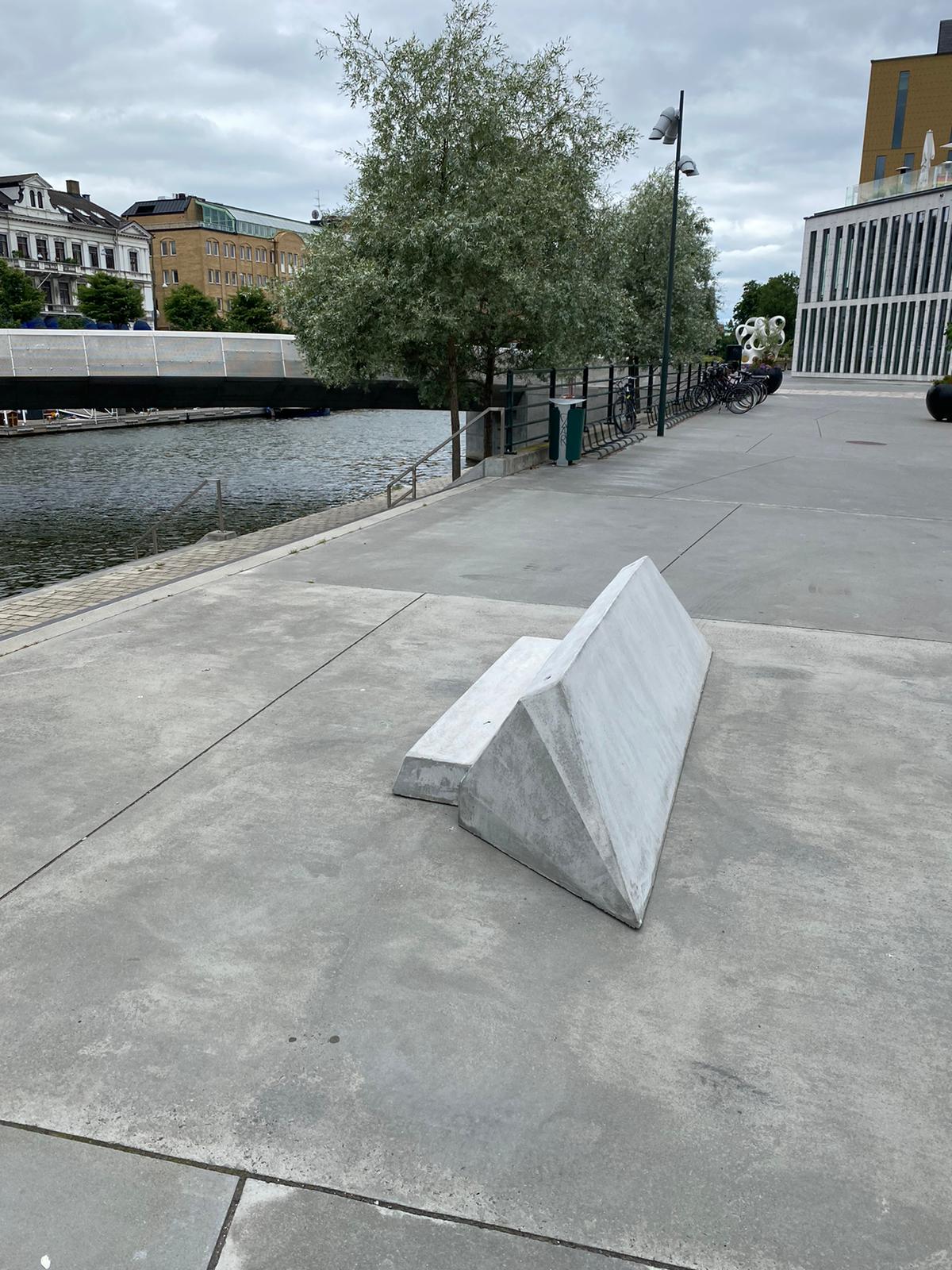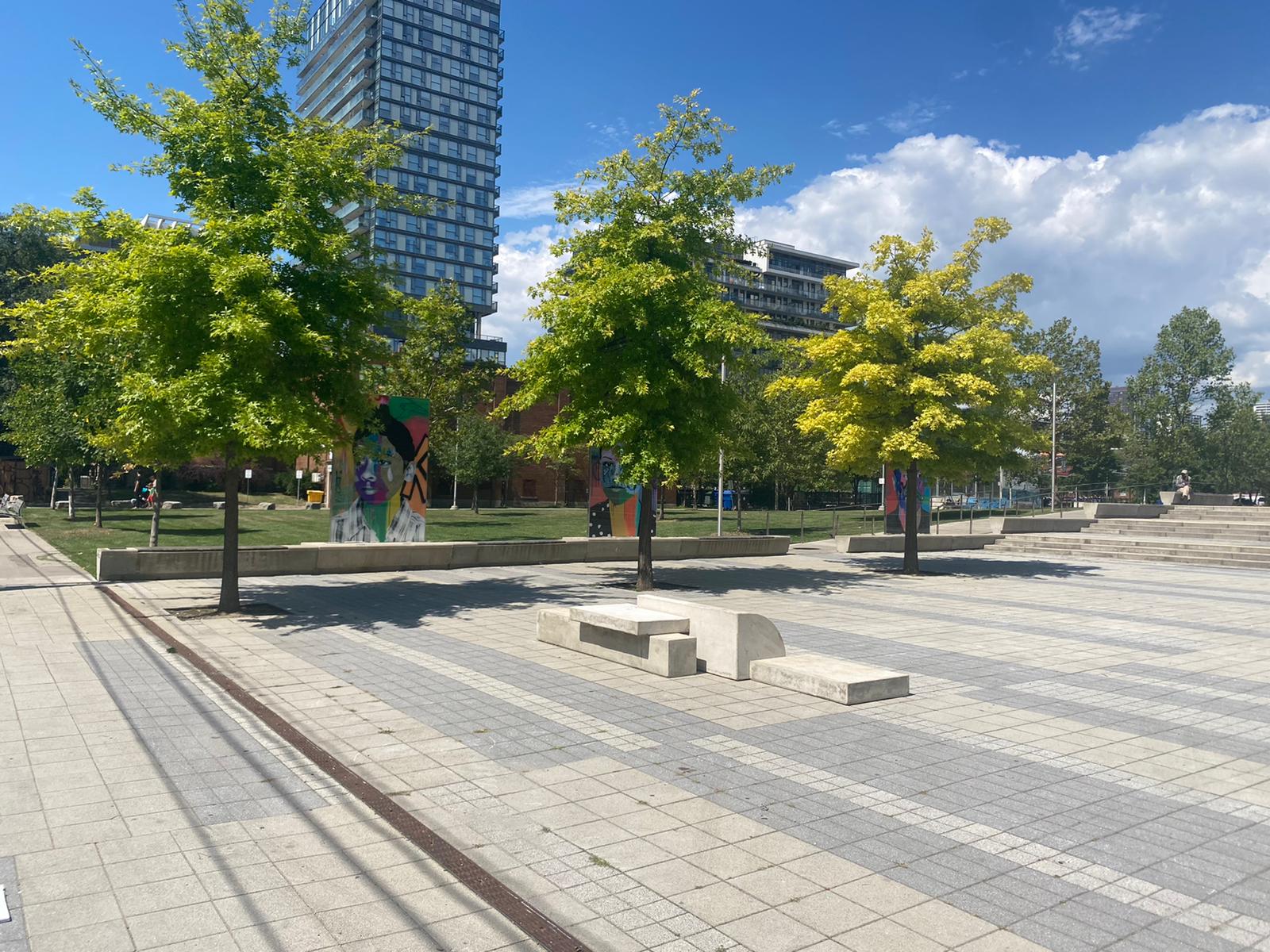 An invitation an a common reflection of Ariel Stagni and Immony Men (Toronto), Board.O and Léo Valls (Bordeaux), Skate Malmo and Gustav Eden (Malmo).

For this project, artist Pierre Descamps was invited to create an ensemble of three site specific skateable sculptures.

The challenge was to conceive each sculpture so it could accommodate simultaneously three different public space locations in the towns of Bordeaux, Malmö and Toronto.

The first sculpture adapts to the docks of Bordeaux, to Nordenskiöldsgatanin esplanade in Malmö and to Barbara Hall design in Toronto. The second sculpture plays off the Miroir d'eau in Bordeaux, Västra Hamnen's angle in Malmö and Regent Park architecture in Toronto. Finally, the third sculpture of the ensemble, adjusts to the brutalism of Bordeaux' ice-skating rink, the Fiskhaanspromenaden's floor in Malmö and the Roundhouse in Toronto.
Pour ce projet, l'artiste Pierre Descamps a été invité à inventer un ensemble de trois sculptures in situ skatables. Une invitation et une réflexion commune de l'association BoardO et Leo Valls (Bordeaux), de Skate Malmo et Gustav Eden (Malmo), et d'Ariel Stagni et Immony Men (Toronto). L´enjeu a été de concevoir chacune de ces sculptures pour trois espaces publics différents simultanément dans les villes de Bordeaux, Malmö et Toronto: la première sculpture s'adapte ainsi à la piste cyclable des quais de Bordeaux, à l´esplanade du Nordenskiöldsgatan de Malmö et au design du College Park de Toronto ; la deuxième au miroi d´eau de Bordeaux, à l'angle du Västra Hamnen de Malmö, et à l'architecture de la School of Visual Arts de Toronto ; la troisième au brutalisme de la patinoire de Bordeaux, au sol de la Fiskhaanspromenaden de Malmö, et au monument du Selfton Park de Toronto
The three volumes present as hybrid forms – a mix of angles, parallelepipeds, triangles and circles made out of concrete; geometric shapes echoing the specific architecture and landscape of each occupied location fusing into one complex build. As for scale and proportion, the artist was guided by Le Corbusier's research and his own practice as a skater.


Beyond the aesthetic relationship they have with each location, the shapes through inclinations or sequences of surfaces imply body mouvement – with or without the use of a skateboard. The sculptures invite skaters and passers by to stop for a moment, sit down, jump, talk, slide, meet, get excited, expend energy, exchange… During the open-air exhibition, the three shapes, located thousands of kilometers apart, will be activated by visitors and skaters in a way specific to each individual, rendering each moment in each town unique.

To install officially skateable sculptures in the urban landscape could result in de–marginalising the youthful and popular practice of skateboarding, but it is also an opportunity to infuse public spaces with some of their original social function.
Ces trois volumes de béton sont des formes hybrides, faites d'angles, de parallélépipèdes, de triangles, de cercles : des formes géométriques qui font écho aux architectures et paysages spécifiques des lieux investis, et qui fusionnent en une forme complexe. Leurs tailles et proportions ont elles été guidées par les recherches du Corbusier et l´expérience de skateur de
l´artiste.

Au-delà de leurs relations esthétiques aux lieux, ces formes, tantôt par leurs plans inclinés, tantôt par leurs successions de plans suggèrent des mouvements du corps, qu´ils soient avec ou sans planche de skate. Elles tentent d'interpeller les skateurs et passants, pour les faire s'arrêter un instant, s'asseoir, sauter, discuter, glisser, se rencontrer, s'enthousiasmer, se dépenser, échanger... Tout au long de cette exposition à ciel ouvert, ces trois formes à des milliers de km les unes des autres seront ainsi activées par les visiteurs et les skateurs, d´une manière certainement propre à chaque personne, rendant chaque moment dans chaque ville unique.

Installer des sculptures officiellement skatables dans l'espace urbain est certainement un moyen de démarginaliser la pratique jeune et populaire du skateboard, mais c´est en plus une occasion de rendre aux espaces publics une dimension sociale.
Pierre Descamps, born in Amiens, France in 1975, has been graduated from the Art School Villa Arson, Nice, France in 2004. He lives and works in Berlin, Germany since 2008, where he produced dozens
of site-specific sculptures in public spaces. His sculptural and photographic works have been shown in several group and solo shows in France, Spain, Germany and Italy, and he won the Spallart Price in 2019 for his series of photographs "Monuments". Pierre Descamps is represented by the gallery Catherine Issert in Saint Paul, France, and the gallery the Goma in Madrid, Spain.

Pierre Descamps, né à Amiens, France en 1975, a été diplômé de l'école d'art Villa Arson à Nice en France en 2004. Il vit et travaille à Berlin, en Allemagne, depuis 2008, où il a réalisé des dizaines de sculptures in situ dans des espaces publics. Ses œuvres sculpturales et photographiques ont été présentées dans plusieurs expositions collectives et individuelles en France, en Espagne, en Allemagne et en Italie, et il a remporté le prix Spallart en 2019 pour sa série de photographies "Monuments". Pierre Descamps est représenté par la galerie Catherine Issert à Saint-Paul en France, et la galerie the Goma à Madrid en Espagne.